Marjorie Zatz, Ph.D.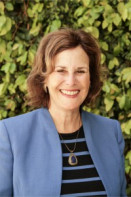 Interim Executive Vice Chancellor and Provost Marjorie Zatz, Ph.D. joined the University of California, Merced, in July 2014 as the first full-time Vice Provost and Dean of Graduate Education and Professor of Sociology, serving in this capacity through June 2020 when she was named Interim Vice Chancellor for Research and Economic Development from July 1, 2020 through September 30, 2022. She has since served as Special Assistant to the Chancellor. She is the author or editor of 7 books and numerous journal articles and was elected a Fellow of the American Society of Criminology in 2019 and the American Association for the Advancement of Science in 2022. As part of her prior 30+ year career at Arizona State University she also served as University Vice Provost for Academic Personnel and Interim Vice President and Executive Vice Provost for the West Campus.
As UC Merced's Interim EVCP, Dr. Zatz provides leadership for campus administrative operations and serves as the university's chief academic officer.  She is thus responsible for planning, development and improvement of all academic programs, policies and infrastructure.
She oversees faculty recruitment, retention and renewal processes as well as rigorous review of faculty appointments, tenure and promotion. She also oversees planning, quality and delivery of student education, working closely with the Merced Division of the University of California Academic Senate.
In addition, Interim Executive Vice Chancellor and Provost Dr. Zatz convenes, as appropriate, vice chancellors and other senior administrators to address issues that cut across divisional lines, oversees the campus budget-request process, and leads strategic planning and other strategic campus initiatives in close collaboration with the chancellor.