Thomas W. Peterson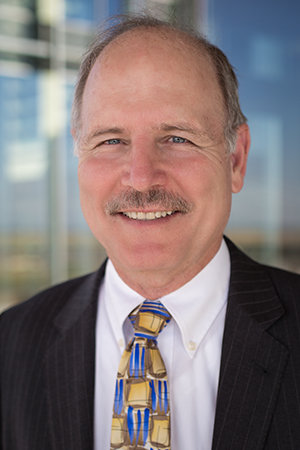 Provost and Executive Vice Chancellor Thomas W. Peterson joined the University of California, Merced, in December 2012.
As UC Merced's second-most-senior executive, Peterson provides leadership for campus administrative operations and serves as the university's chief academic officer, and is responsible for planning, development and improvement of all academic programs, policies and infrastructure.
He oversees faculty recruitment, retention and renewal processes as well as rigorous review of faculty appointments, tenure and promotion. He also oversees planning, quality and delivery of student education, working closely with the UC Merced Academic Senate division.
In addition, Provost Peterson convenes, as appropriate, vice chancellors and other senior administrators to address issues that cut across divisional lines; oversees the campus budget-request process; and leads strategic planning and other strategic campus initiatives in close collaboration with the chancellor.
Peterson has compiled an extensive record in higher education, research and administration since assuming his first academic position as assistant professor of chemical engineering at the University of Arizona in 1977.
He rose steadily through the faculty ranks and was named head of the Chemical Engineering Department in 1990. In that capacity, he oversaw the merger of the Chemical and Environmental Engineering departments into a single unit and initiated named graduate-degree programs (MS and Ph.D.) in environmental engineering.
Peterson was named dean of the University of Arizona's College of Engineering in 1998, and oversaw 18 undergraduate and 15 graduate programs, a state budget of $18 million and external research support of $30 million annually.
After 32 years at the University of Arizona, Peterson was tapped in 2009 to lead the Directorate for Engineering at the National Science Foundation, a $7 billion federal agency that invests in the nation's research and education activities in the fields of science and engineering. The Directorate for Engineering provides support for frontier research, enhances technological innovation and integrates those activities with the education of new engineers.
While working at NSF, Peterson promoted the integration of research and education investments and interdisciplinary research that contributes to the solution of large-scale grand challenge problems. After completing a four-year term in the fall of 2012, he joined UC Merced.
Peterson is an accomplished research engineer and widely published author and lecturer in the field of aerosol dynamics. His past and present affiliations with professional and academic institutes, councils and societies are extensive. He has also served on numerous boards and commissions at the state, national and international levels throughout his career.
He was awarded a Doctor of Philosophy, Honoris Causa, by the University of Arkansas, Little Rock, in 2010; was named a fellow of the American Institute of Chemical Engineers in 2004; and was the recipient of the Kenneth Whitby Award from the American Association for Aerosol Research in 1986.
Peterson holds a bachelor's degree from Tufts University, a master's degree from the University of Arizona and a doctoral degree from the California Institute of Technology, all in the field of chemical engineering.