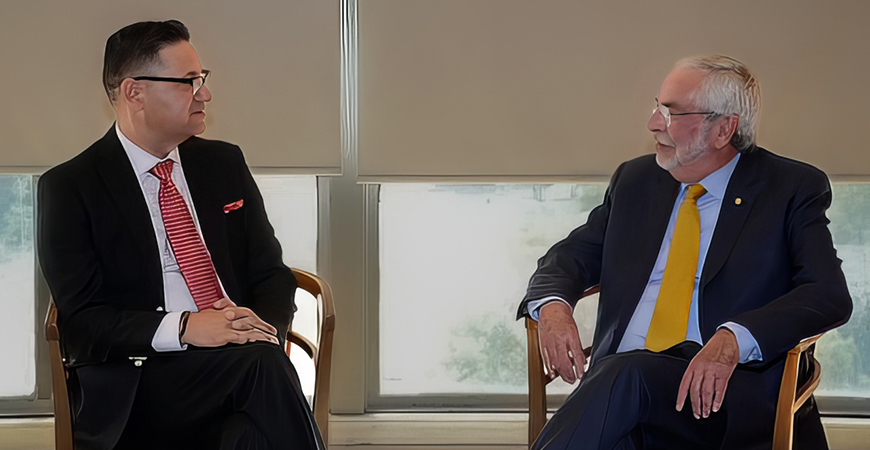 UC Merced's battle against climate change is traveling south of the border as campus leaders joined UC Alianza MX to help launch a strategic alliance between the UC system and counterparts in Mexico.
The agreement will create a pipeline for students in California and Mexico to take courses and become connected with professional opportunities in each other's country, for faculty to collaborate on research projects, and to generate a bilateral climate justice agenda that addresses the challenges for communities, businesses and society on both sides of the border.
"The agreement represents the beginning of a new relationship between our campus and institutions in Mexico," Chancellor Juan Sánchez Muñoz said. "As a world-class research and Hispanic Serving Institution, we are excited for UC Merced to be part of this opportunity that will build an exchange pipeline to create binational linkages for the next generation of leaders from both countries."
During their trip to Mexico, officials visited the Universidad Nacional Autónoma de México (UNAM), the Universidad de las Americas, Puebla (UDLAP) and Universidad Autónoma Chapingo (UACh) to discuss hybrid team-taught courses, and faculty-led experiential learning and student exchanges. They also discussed opportunities for further research collaborations between UC Merced and the institutions.
"We are very excited to begin development of hybrid courses in soil sciences and in the humanities as a first step toward deeper engagement across our universities," Interim Vice Chancellor for Research and Economic Development and Professor Marjorie Zatz said. "We are also planning student exchanges, faculty-led study abroad programs and deepening research opportunities. There is tremendous excitement about the prospects for collaboration across several fields of study and we look forward to a very productive partnership with our Mexican colleagues."
Civil and Environmental Engineering Professor Josué Medellín-Azuara also attended the trip and was awarded a three-year grant from UC Alianza MX in January to fund a strategic research project on water resource management in agriculture and ecosystems to improve climate-extreme resilience in Mexico and the U.S.
"As a Mexican-raised UC Merced faculty member, it is deeply rewarding to participate in UC Alianza MX through hybrid courses, academic and research exchange to further our binational academic and cultural bonds," Medellín-Azuara said. "This broader transboundary perspective will enrich science and actions from our collective pool of talent and among future generations in managing climate extremes."
UC Alianza MX was formed in 2019, combining three preexisting UC systemwide programs: the UC Institute for Mexico and the United States, known as UC MEXUS; the UC-Mexico Initiative; and Casa de la Universidad de California en Mexico, or Casa de California. The
program is led by Isabel Studer, who helps create partnerships that include universities, government, industry and communities in the United States and Mexico.
About 500 UC professors, including many from UC Merced, are already working on a variety of research topics with Mexico.