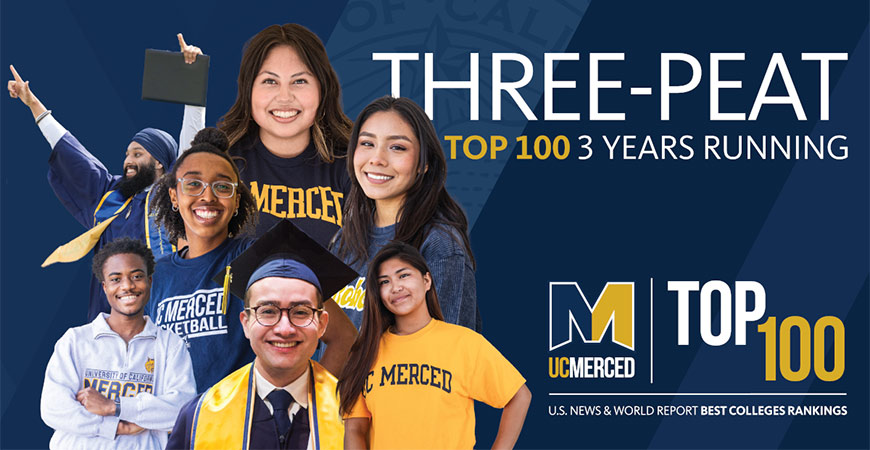 UC Merced continues to build a national reputation for its academic distinction and research excellence.
For three consecutive years, UC Merced has been ranked in the top 100 national universities by U.S. News & World Report. The 2023 list released this morning (Sept. 12) placed the campus at No. 97 overall among national universities, No. 42 for overall public universities and No. 15 in R2 universities.
"UC Merced has solidified itself as a world-class institution of higher learning and we take great pride in our ability to maintain that status year after year," Chancellor Juan Sánchez Muñoz said. "This latest ranking is further proof that UC Merced is a viable option for those who crave innovation, seek to push beyond the horizon of knowledge and aspire to be the next generation of leaders."
UC Merced's undergraduate engineering program jumped eight spots in U.S. News' best undergraduate engineering program, ranking at No. 123. The School of Engineering counts on renowned faculty from all over the world who enhance each student's education by offering new perspectives on what is learned in the classroom and discovered in the lab.
"We are extremely pleased that the School of Engineering undergraduate program is recognized and appreciated more and more by our peers. Our faculty and staff work tirelessly to give our students an outstanding undergraduate experience," School of Engineering Dean Mark Matsumoto said.
The undergraduate engineering programs rankings by U.S. News are based on peer-assessment surveys. To appear on an undergraduate engineering survey, a school must have an undergraduate engineering program accredited by ABET, a nonprofit, non-governmental agency that accredits programs in applied and natural science, computing, engineering and engineering technology.
The campus also ranked No. 13 for economic diversity. As a Hispanic Serving Institution (HSI), UC Merced has the highest percentage of Pell Grants recipients in the UC system, with 60% of its undergraduates receiving the federal financial aid program for low-income families.
UC Merced ranked No. 5 for creating social mobility by exceeding the national average for student graduation rates by enrolling and graduating large proportions of disadvantaged students awarded Pell Grants.
Last month, Washington Monthly ranked UC Merced at No. 49 in the United States and No. 23 among public universities. The rankings are based on publicly available federal data and focus mainly on student outcomes at 442 national universities, such as social mobility and college loan debt, along with research excellence.
Other recent distinctions:
2023 Princeton Review "388 Best Colleges" (unranked)
2022 Winds of Change Top Schools for Indigenous Students
2022 World Universities with Real Impact, No. 25 Global Most Innovative
2022 Money Magazine Best Colleges by Value, No. 80