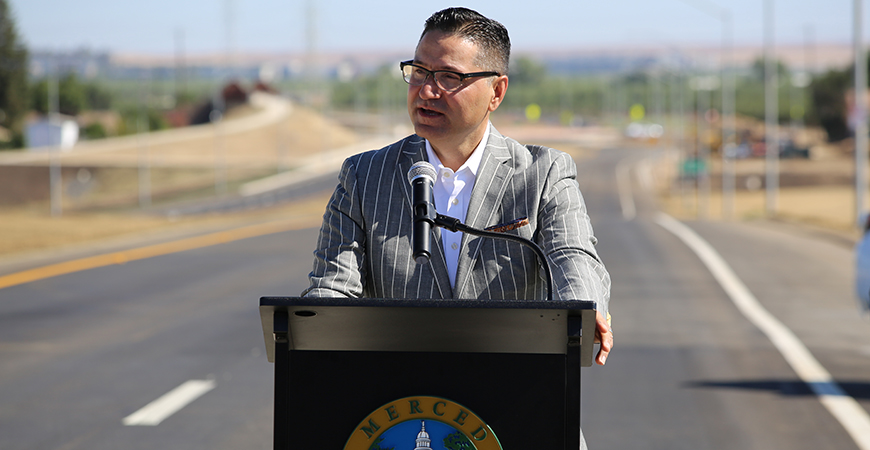 UC Merced Chancellor Juan Sánchez Muñoz has been named to the Carnegie Classifications Institutional Roundtable, a panel of higher education leaders that will recommend potential revisions to the way institutions are classified, looking particularly at metrics describing students' social and economic mobility.
"This is a historic measure by the Carnegie Foundation to re-envision how well universities help to build the lives and futures of our students," said Muñoz. "It is an honor to be able to join colleagues from around the country in this important work."
Developed in the early 1970s, the Carnegie Classification of Institutions of Higher Education is the leading framework for recognizing and describing institutional diversity among colleges and universities.
UC Merced is currently in the Carnegie Classification's R2 category, "doctoral universities — high research activity;" the university's Strategic Plan has a goal of moving into R1, "very high research activity." Both designations focus on research grant funding, numbers of doctoral graduates and other research-centric criteria. Overall, the Carnegie classifications are primarily used by researchers to study the higher education sector.
The American Council on Education (ACE) and the Carnegie Foundation are collaborating in this project and have asked the Roundtable to consider:
• Increased social and economic mobility for learners, especially for those who have faced systemic inequities.
• Prioritization of improved learner access and outcomes.
• Continuous improvement and knowledge sharing within and between institutions.
• Transparent information about the success of individual institutions in supporting students' social and economic mobility.
"ACE has been focused for several years now on the importance of equity — racial equity, social mobility — and has been highlighting institutions that have been all-stars in producing upward mobility for students. Collaborating with the Carnegie Foundation to further the next generation of real change, will broaden the aperture and create identifiable lanes of excellence for institutions," said Ted Mitchell, president of ACE.
"We understand how much it matters to institutions to be represented, to have their missions, their excellence, their work, be represented in the classification system," Mitchell said. "We are excited to begin this important work, and I am thrilled Chancellor Muñoz has agreed to participate in this very important endeavor."
The Roundtable also includes leaders from such universities as American, Georgetown and Brigham Young.
The roundtable begins work in November and will meet for 12 to 18 months to suggest revisions for the 2024 Carnegie Classifications release.