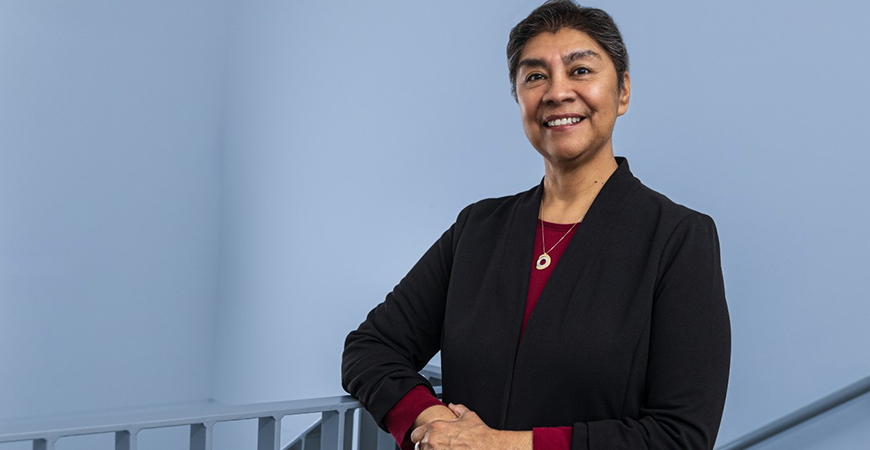 As of July 1, UC Merced's Office of Equity, Diversity and Inclusion transitioned to the Division of Equity, Justice and Inclusive Excellence (EJIE), with an official launch planned in conjunction with a special event on Thursday, Sept. 15.
While the office name may be changing, Vice Chancellor and Chief Diversity Officer Delia Saenz wants the campus community to know that "diversity" isn't going anywhere. Instead, the focus is shifting toward cultivating an environment where a diverse community can thrive.
"We will continue to work on representation among our staff and faculty to parallel the diversity of our students, but at the same time that we build our numbers, we need to think about the context into which we're recruiting people," Saenz explained. "So, just like in the agricultural arena where you bring new seed and you try to create the greatest yield, it doesn't happen unless you cultivate the soil.
"This is akin to creating an environment where we can say, 'Look, we are just, we are fair, we are inclusive. You don't have to hide who you are when you come to work or learn here; we want you to bring your full self.'"
With the name change come new mission and vision statements, which will be shared at the launch event, and new positions in the division that Saenz said will allow EJIE to better serve UC Merced's faculty and allow them to build inclusive, supportive environments in the classroom.
"We're not starting from scratch," she said. "We already have pockets of excellence throughout the university where faculty are really doing innovative things and creating thriving conditions for their students, and so we'll partner with them. I'll also partner with some new roles being created within the schools — associate deans for equity, justice and inclusive excellence. A lot of this will be collaborative and partnership-based."
On the staff front, Saenz will also work with Human Resources to think through how to create teams throughout the campus community that celebrate staff diversity and spaces where people feel "psychologically safe to bring their best ideas, their greatest creativity, their strongest and most positive energy to solving the challenges of our world."
Saenz admits her vision is bold. She wants equity, justice and inclusion to be woven into every facet of the university rather than as detached or narrow priorities. And she wants the campus community to do it in a collaborative conversation, from discussing issues like gender and implicit biases in the workplace and in hiring practices to looking at the kinds of projects being funded and how they move the needle for justice and inclusive excellence.
"How do we have those conversations so that we don't threaten one another, we don't call each other out, but instead we call each other in and say, 'let's create the best environment that we can have here?'" she asked.
Those wanting to learn more about EJIE's bold new mission and vision can attend the official launch event later this week titled "Making Excellence Inclusive." Attendees will enjoy a lively discussion with social justice trailblazer Dr. Nancy (Rusty) Barceló, Chancellor Juan Sánchez Muñoz and Vice Chancellor and Chief Diversity Officer Delia Saenz, and may win one of several door prizes, including books by prominent EDI authors and UC Merced swag. In the spirit of community, all are welcome.