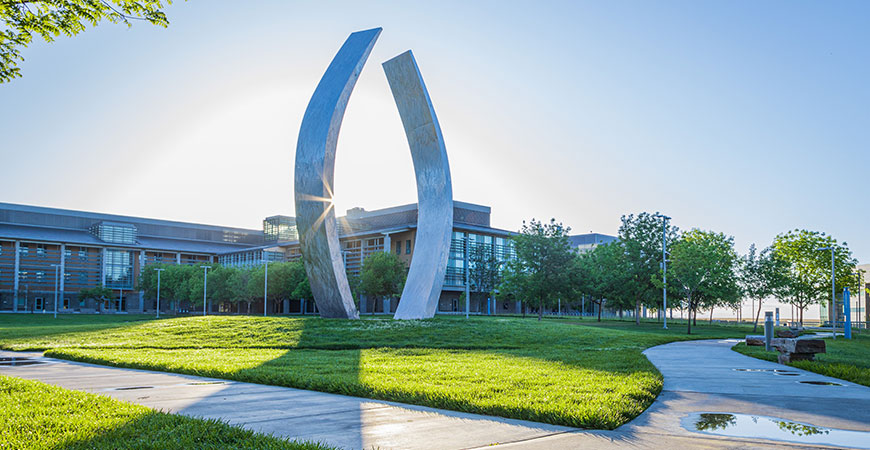 Each year, faculty members are specially recognized by their peers in the Academic Senate for a variety of accomplishments.
This year's Academic Senate awards honor faculty from across the three schools for their outstanding teaching, research, impacts on their fields and mentorship, as well as their dedication to diversity and scholarly public service in the 2022-23 academic year.
"My consistent aim when teaching is to provide the best possible learning opportunity to every student," said materials science Professor Christopher Viney, winner of this year's Distinguished Undergraduate Teaching by a Senate Faculty Member Award. "My goal is to inspire and encourage all students to perform to the absolute best of their own ability, building their understanding as well as their knowledge, their life skills as well as their classroom skills. Every student arrives in class with unique untapped potential. Even apparently unremarkable students can develop into top performers, and I have enjoyed demonstrating this reality in every subject that I have taught."
The Academic Senate is the group through which faculty members share in the governance, operation and management of the university. On various committees, Academic Senate members determine academic policy; set conditions for admission and degree-granting; authorize and supervise courses and curricula; and advise the administration on faculty personnel actions, academic space and resource allocation and budgets. The Senate also recognizes faculty members with awards and grants.
"I'm very honored to have won this award and grateful to the Academic Senate. This would not have been possible without all the support I've received along the way, especially from my colleagues and students in the Department of Cognitive and Information Sciences department, who make this such an exciting place to do research," said Professor Rachel Ryskin, winner of the Distinguished Early Career Research Award.
In recognition of their accomplishments, the recipients received an engraved medallion from Chancellor Juan Sánchez Muñoz during the May 15 Division Meeting. Each recipient will also receive $1,000.
"I feel honored to receive this year's award for Distinguished Service to the Academic Senate named after Dr. Fred Spiess. For me, the service to the Senate has always been a great learning experience, and a great way to get to know and help the campus community," said physics Professor Michael Scheibner. "While each individual can make a difference on the Senate, accomplishments are never the work of a single person — they are always due to the contributions and collaboration from all the committee."
This year's award winners:
Dr. Fred Spiess Distinguished Service to the Academic Senate: Professor Michael Scheibner, School of Natural Sciences, in recognition of outstanding service to the Academic Senate
Distinguished Undergraduate Teaching by a Senate Faculty Member: Professor Christopher Viney, School of Engineering
Distinguished Undergraduate Teaching by a Non-Senate Faculty Member: Lecturer Meaghan Altman, School of Social Sciences, Humanities and Arts
Distinguished Graduate Teaching and Mentorship by a Senate Faculty Member: Professor Abel Chuang, School of Engineering
Distinguished Early Career Research: Professor Rachel Ryskin, School of Social Sciences, Humanities and Arts
Distinction in Research: Professor Martin Hagger, School of Social Sciences, Humanities and Arts
Distinguished Scholarly Public Service: Professor Colleen Naughton, School of Engineering
Contributions to Diversity: Professor Roummel Marcia, School of Natural Sciences