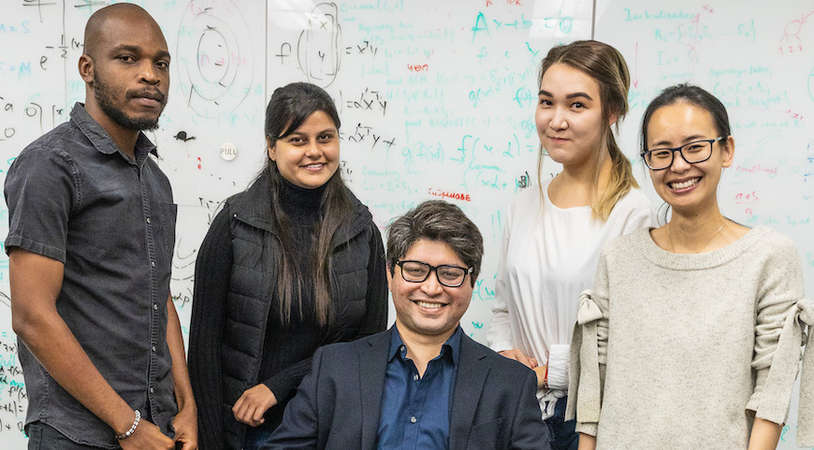 Professor Ahmed Sabbir Arif has received a CAREER award for his research into non-acoustic, image-based speech input on mobile devices.
He is the 35th researcher from UC Merced to earn a CAREER award from the National Science Foundation (NSF).
CAREER awards are among the NSF's most prestigious awards given through the Faculty Early Career Development Program to recognize untenured faculty members as teacher-scholars. Early-career faculty members are selected based on three factors: the strength of their research proposals; their potential to serve as academic role models in research and education; and their leadership in their fields and organizations.
Arif will receive $636,286 over the next five years for the project "Inclusive, Private Mobile Input and Interaction Using Lip Reading." The award was submitted through and is managed by the Health Science Sciences Research Institute (HSRI). 
Arif and his lab focus on making computer systems more accessible by developing intuitive, effective and enjoyable input and interaction techniques.
He said the award wouldn't have been possible without the hard work of his students, particularly Ph.D. alumnus Laxmi Pandey, who collected data and implemented the initial version of the system.
"This research will develop an efficient real-time lip reader that uses the front camera of a mobile device to capture the motion of the lips and interprets that into text," Arif said. "A particular focus is on the design of an intuitive user interface that provides a range of visual, auditory and tactile feedback to facilitate error-free text entry."
Arif has been with UC Merced since 2017. He leads the Inclusive Interaction Lab, which he founded after arriving on campus.
"Professor Arif's Inclusive Interaction Lab has been conducting noteworthy research into making technology more accessible, especially to users with disabilities," said Professor Shawn Newsam, chair of the Computer Science and Engineering department. "In addition to numerous best paper awards he and his students have received recently, this NSF CAREER award on input and interaction through lip reading is further recognition of the important contributions his lab is making to the field of human-computer interaction."
Each CAREER award proposal includes an educational outreach component. Arif said his proposal is designed to increase local high school students' interest in computer science, expand undergraduate students' involvement in a culture of inquiry and discovery, promote diversity, equity and inclusion by attracting underrepresented students to computer science, and raise awareness about how to increase accessibility of computer systems by using inclusive design.Arif's lab offers volunteering opportunities for undergraduate students and summer internships for high school students.
He was honored to learn about the CAREER award. And the work it funds will help expand the reach of his research.
"Even broader impacts will derive from providing access to mobile devices to a wider range of users, such as persons with speech disorders or who are mute," Arif said. "Ultimately, project outcomes could be exploited in virtual reality, automotive user interfaces and in many other systems to increase their usability, privacy, security and accessibility."