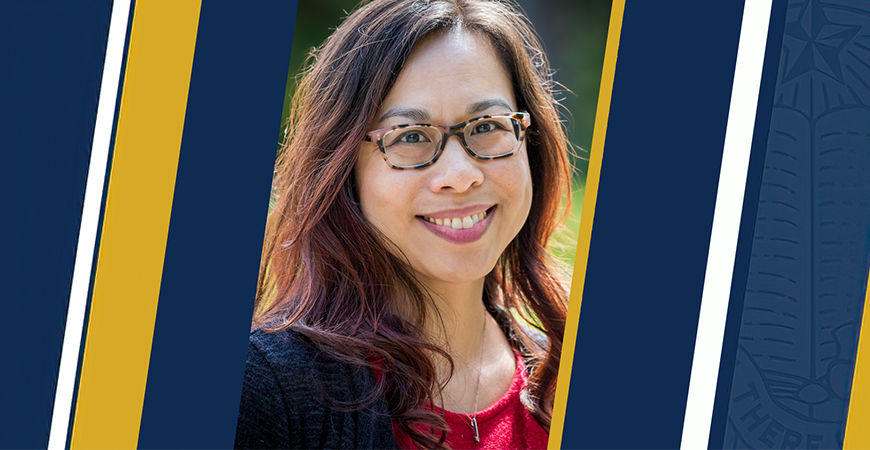 Professor of Literatures, Languages and Cultures Mai-Linh K. Hong has been awarded a 2023 ACLS Fellowship from the American Council of Learned Societies. The ACLS Fellowship Program supports exceptional scholarship in the humanities and interpretive social sciences that has the potential to make significant contributions within and beyond the awardees' fields.
Hong's award this spring came on the heels of a successful book publication. She co-edited The Auntie Sewing Squad Guide to Mask Making, Radical Care, and Racial Justice, which was published by University of California Press in November 2021, and featured at an event at City Lights bookstore in San Francisco's North Beach.
The book documents the life-saving work of the Auntie Sewing Squad, which sewed fabric masks for the most vulnerable populations, including indigenous communities, farmworkers and people who were incarcerated, during the COVID-19 pandemic. Hong is a member of the Squad, which includes Asian American women, also reacting to both the spike in hate crimes against their community and the Black Lives Matters protests, for which they sewed masks and in which they joined.
In its review of the book, Publishers Weekly said, "this spirited collection inspires."
"Alongside patterns for masks, the aunties muse powerfully on mutual-aid, and note that small steps taken together (including mask-making in one's community) can create a difference," Publishers Weekly said. "Whimsical illustrations come along the way, as do recipes for such treats as Tsukemono pasta salad, vegan kimchi and chocolate shortbread hearts."
The 12-month fellowship will help Hong continue her important storytelling. During the fellowship period, she will write a scholarly monograph tentatively titled "Perilous Telling: Story in the Shadow of the Refugee Regime."
The book traces the production and uses of story by people who live under political duress, amid the precarities and aftermaths of involuntary migration. According to the fellowship announcement, "Perilous Telling" offers both a justice-oriented theory of story itself and a critical cultural study of refugee law "from below," that is, from the perspective of refugees who do not make the law but are most impacted by it.
Hong said she refers to refugee stories as "perilous tellings" because "when refugees tell, they navigate numerous pitfalls that come from the precarious conditions in which they live."
"Refugees tell of their experiences and imaginings in many forms, written and nonwritten, both when they want to and don't want to (but are coerced to tell, say, for legal reasons or due to social expectations)," Hong said. "They don't tell in a vacuum; rather, their stories interact with countless popular narratives that their listeners/readers are already familiar with, such as stories about refugees who are stereotyped as helpless and voiceless, or refugees who are grateful to be 'rescued' by white saviors."
Hong said she studies literature by and about refugees to try to develop more ethical ways to listen to and read work by refugee storytellers/authors that don't just accept the stereotypes but honor the knowledge that refugees bring to the table. She also writes about her own family's experiences as Vietnamese refugees and tries to develop intellectual frameworks out of the knowledge they have passed on to her.
"With higher education under sustained attack around the country, ACLS is proud to support this diverse cohort of emerging scholars as they work to increase understanding of our connected human histories, cultures and experiences," said ACLS President Joy Connolly. "ACLS Fellowships are investments in an inclusive future where scholars are free to pursue rigorous, unflinching humanistic research."