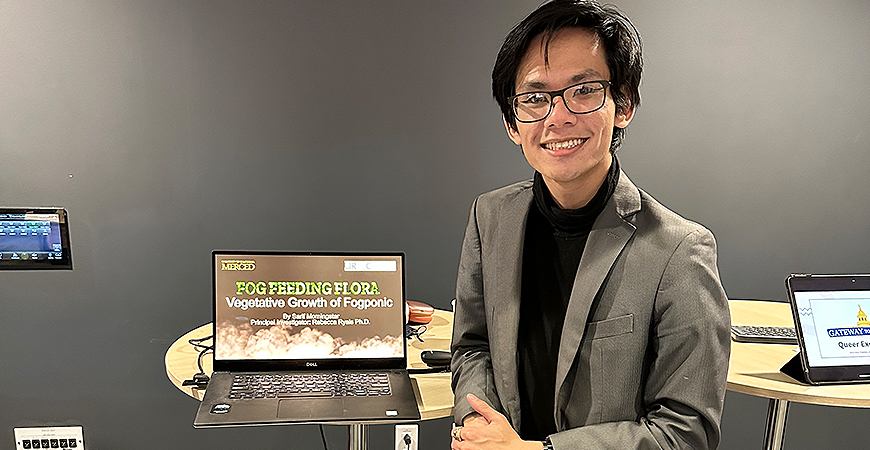 Sarif Morningstar wondered something: "What happens if I grow plants using fog?"
The UC Merced student's efforts to find an answer to that question led to a research project they got paid to conduct. That in turn led to an opportunity to study plant biology in the UC Davis Ph.D. program.
Like Morningstar, many undergraduate students at UC Merced can get paid to do research under the newly adopted Learning Aligned Employment Program (LAEP).
LAEP is similar to federal work study, but instead of working at a job that does not necessarily further the students' academic goals - such as a microbiology major working in the campus bookstore - students earn money by conducting research.
Projects do not have to be directly related to what the students are studying, but should reflect their interests, said Jorge Arroyo, director of the Undergraduate Research Opportunities Center (UROC).
UC Merced was quick to implement LAEP after the state launched the program in the 2021-22 budget year to begin academic year 2022-2023. The campus was well-positioned to start the program swiftly, because the university already has undergraduate research positions through UROC, Arroyo said.
"We already had the structure in place," he said. UROC collaborated with Student Employment Services, Office of Financial Aid and Scholarships, and the Center for Career and Professional Advancement to implement the program for the fall 2022 semester.
Morningstar's fog project presented a stretch for the biological sciences major.
"When it came down to it, I was the one who needed to make the apparatus for growing the plant using fog," they said. "As someone with limited background in engineering, it was difficult, and many attempts were made."
They worked with Professor Rebecca Ryals to overcome the challenges.
"Dr. Ryals was instrumental in my success with her mentorship because she helped me to be able to come up with solutions for myself and build the skill set necessary to further my project on my own," Morningstar said.
In the previous positions, the department paid 25 percent of the student salaries. But under LAEP, 100 percent of the salary is covered by the program funding.
"Each student is mentored directly by a UC Merced professor," Arroyo said. "At the end of the academic year, all students will present their projects at least once either during Research Week or a final symposium for LAEP." Several of the students presented their projects during the university's Research Week celebration in March.
Participants can earn up to $7,900, depending on financial need and award eligibility. They make $17 per hour and work between five and 18 hours per week.
"It does require a financial aid award to ensure eligibility," Arroyo said. "The campus emailed all the students - over 8,000 students were eligible - to notify them of the program and the process to confirm a faculty mentor."
Getting accepted into the program is not a competitive process. "They just have to find a faculty mentor."
And it wasn't difficult to get faculty to participate.
"We held an information session and hosted faculty flash talks in August," Arroyo said. It's an attractive option for them, as well, "because faculty don't have to pay the students' salaries."
Some faculty members are hosting multiple students.
Program leaders were gratified to see that the demographics of the participants matched those of the overall campus, including first-generation college students and those from historically marginalized communities.
To be eligible, students must meet the following criteria: underrepresented (which includes first-generation college students, low-income students, students who are current or former foster youth, homeless students or those at risk of becoming homeless, students with disabilities, displaced workers, students with dependent children, formerly incarcerated students, undocumented students, students meeting the requirements of AB 540, and veterans), eligible to work in the United States, residents of California, making satisfactory academic progress, in financial need, in good academic standing and enrolled at least half-time at UC Merced.
Other campuses are still working on starting their programs that will include both research and internship positions. But UC Merced representatives wanted to get the program going, so they started with the research side only.
Internships are next, Arroyo said, and could start as early as spring of 2024.
"Our colleagues have great community partners," Arroyo said. "We are working with them and saying, 'Let's talk about how we can make this happen.'"
Scott Garcia, bioengineering major, called LAEP an "amazing opportunity."
Garcia works in Professor Wei-Chun Chin's lab, studying the effect of the liquid components of electronic cigarettes on airway mucus swelling kinetics.
"While in the lab I employ several lab techniques including cell culture, video microscopy, mass spectrometry and so much more," Garcia said. "It has been a fantastic opportunity to not only learn the valuable lab techniques I employ day to day but to have gained so many valuable memories and connections along the way."
Morningstar, who will begin the Plant Biology Ph.D. program at UC Davis this fall, said the program provided invaluable resources, outside of just the money.
"Growing up as a fatherless and illiterate child of a poor immigrant mother, I would never have imagined I was interviewed side by side with progenies of long lineages of professionals, many of whom were the product of institutions such as Columbia, Yale and Cornell," they said. "LAEP provides both the financial and personal support needed for me to rise up and earn a place in a top Ph.D. program."
The program has been a win all around.
"It's really exciting, seeing it pay off for the students," Arroyo said. "They have a wonderful experience which shows the hard work was worth it."