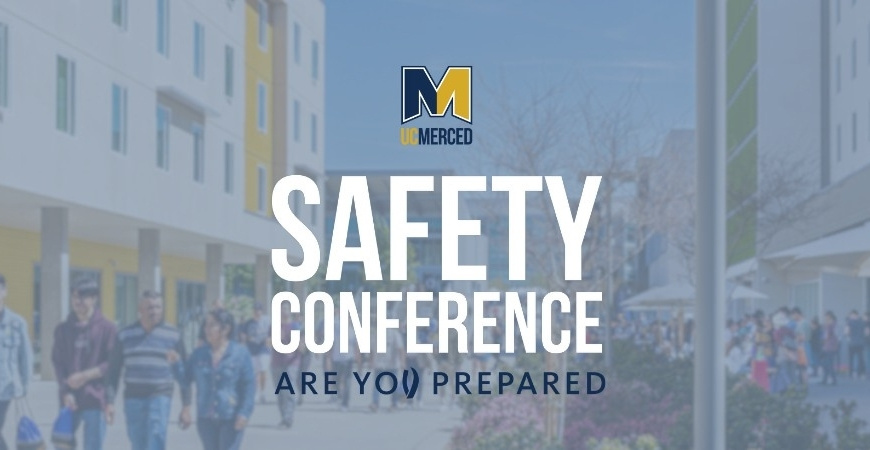 The inaugural UC Merced Safety Conference is an effort to bring nationally recognized subject matter experts to the San Joaquin Valley to share critical safety information, best practices, and the latest innovations in enhancing community and campus safety with conference attendees. The overall goal is to amplify and grow the resources within area communities to prepare, recognize and respond to safety concerns.
Attendees can expect to learn about the changing nature of the challenges communities face, lessons from other tragedies across the nation and the importance of a collaborative multi-discipline team approach. The conference will take place Sept. 27 from 8 a.m. to 5 p.m. at the UC Merced Conference Center. The UC Merced Police Department said it is a prime opportunity to learn from subject matter experts on the cutting edge of developing best safety practices based on research and lived experiences.
"Seeing the growing concern about emotional and mental well-being as the nation and state emerge from COVID was a driving inspiration," said UC Merced Police Chief Chou Her.
Conference topics and speakers include:
• FBI: Behavior Threat Assessment — Alyssa Kim, Special Agent, U.S. Federal Bureau of Investigations
• U.S. Secret Service: Trends in Active Shooter — Aaron Cotkin, Ph.D., social science research specialist, and Arlene Macias, domestic security strategist, U.S. Secret Service National Threat Assessment Center
• Black Swans, Grey Rhinos and Dragon Kings: The Next Challenges for Emergency Management — Christopher Godley, director of Emergency Management, Stanford University
• Breaking New Ground: Innovation, Emergency Management and Artificial Intelligence — Amina Assefa, director for Emergency Management & Business Continuity, University of California Office of the President
• California Amber Alert — Sgt. Matthew Whitworth, California Highway Patrol
• Critical Event Planning — Michelle Heckle, UC San Francisco Police Department law enforcement liaison
• From Northridge to Now: Legacy of Earthquake at the CSU — Jenny Novak, systemwide director for Emergency Management & Business Continuity, California State University Chancellor's Office
• Human Trafficking Threats in Higher Education — Sgt. Kari Gomes and Det. Kourtney Brown, UC Merced Police Department
• Jeanne Clery Act: Department of Education — James Moore, senior advisor for Clery Act Compliance and Campus Safety, and Anna Archila, supervisor for the Clery Group, San Francisco Regional Office
• Protest Management: Lessons Learned UC Berkeley — Margo Bennett, retired chief of police, UC Berkeley Police Department
Her said professionals in mental health, crisis work, education or anyone charged with caring for and serving the community could benefit from attending the conference.
"This is such a great opportunity to get national level training and information in the heart of the Valley on a University of California campus," said Her. "Conference attendees will leave more informed and better situated to respond in their professional careers."
The conference keynote speaker is Jill McCluskey, Ph.D., founder of the Lauren McCluskey Foundation. In 2018, Jill's 21-year-old daughter, Lauren, was murdered on the University of Utah campus. Now, the Lauren McCluskey Foundation spreads awareness about dating violence and stalking — some of the most pressing issues facing universities and colleges today.
"We focus on the response, including the professionals' response and why it is so important to have coordinated campus response," McCluskey said. "I will talk about what went wrong in Lauren's case. Campus housing knew something was going wrong and had reports. The campus and police had reports, but nobody talked to each other."
Her called McCluskey a "force for change and a beacon to others to inspire needed changes." He said her perspective is invaluable because she took a tragedy and turned it into a mission to spread awareness and education about safety.
During the conference, attendees can learn more about Lauren McCluskey's story during a screening of ESPN's investigative documentary "Listen." The film explores the University of Utah student athlete's life, murder and her parents' quest for answers.
"We need to take an active role in recognizing threats, dangers and risk," said Her. "Lauren's story is powerful and shows that the safety of any child or person is the responsibility of an entire community."
To register for the UC Merced Safety Conference, click here.