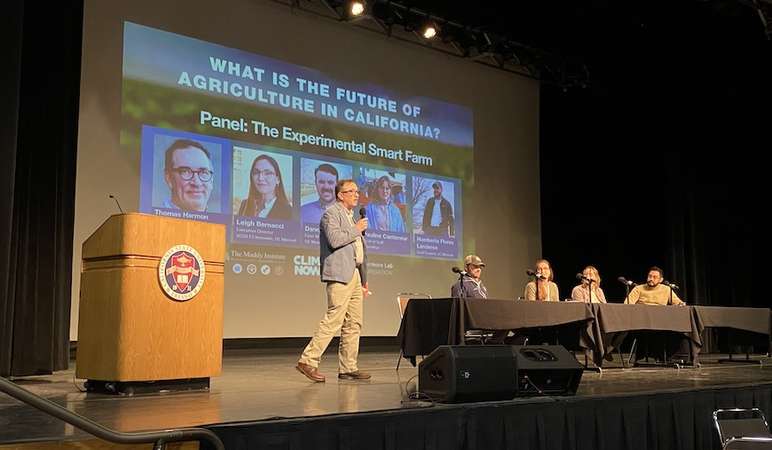 While UC Merced's Experimental Smart Farm is focused on technology and automation, it's also about machine-human collaboration.
That was among the messages UC Merced's representatives shared in a panel discussion at the "What's the Future of Agriculture in California?" symposium, held Thursday, March 30, at California State University, Fresno.
UC Merced's panel introduced the university's smart farm, which will serve as a hub for data gathering as well as projects researchers can try out before scaling to larger properties. And though much at the farm will be working toward automating some tasks, the goal is also to create better, more highly skilled jobs for the farm labor force.
"We like to think about smart in terms of human resources, elevating the worker and making the work experience more enjoyable, less prone to injury and safer," said Professor Tom Harmon, who co-leads the farm. "We are envisioning lots of careers for mechanical engineers, computer scientists or technicians who wrangle these robots."
In the keynote address, California Secretary of Food and Agriculture Karen Ross said that California agriculture is the envy of the world and despite challenges, the pandemic and other disruptors, farmers and ranchers are innovators and can be part of the climate solution.
But as agriculture moves forward, she said, there is a vital need for increased flexibility and adaptability on the part of the state.
More than 700 people registered to attend the free, one-day in-person and virtual summit. Sponsored by The Maddy Institute, in partnership with the Livermore Lab Foundation, Fresno State, CSU Bakersfield, CSU Stanislaus, UC Merced and Climate Now, the summit offered an opportunity for key agricultural stakeholders to discuss not only California's 2045 net-neutrality deadline, but specific challenges often related to water, pricing, subsidies and policies. University-led panels offered innovative ideas on economics, repurposing lands, enhancing and preserving water as well as what the experimental smart farm might look like in the future.
Ross highlighted state policies and grant opportunities available to the agriculture community, but she made it clear the state's goal is a partnership to achieve results.
"There are 69,000 farms in California, 70 percent of which are under 100 acres," she said. "We want to partner with our farmers and ranchers to achieve results and not just rely on the regulatory process. There is a place for regulation, but when it comes to restoration, habitat, and biodiversity, working directly with farmers and ranchers, environmental conservation and restoration groups is where we want to be."
In addition, farmer and producer panels throughout the day also addressed the Sustainable Groundwater Management Act (SGMA), passed by California in 2014.
"In the long-term, SGMA is the right thing to do," said Dennis Parnagian, owner of Fowler Packing Company. "But it's challenging to get there."
In a panel on ag policy, Fresno State President Saul Jiménez-Sandoval called on the state to value agriculture as highly as the movie industry in Los Angeles and Silicon Valley tech.
"Government is failing to react nimbly," said Joe Del Bosque, owner of Del Bosque Farms. "We need new measures and new protocols."
Lawrence Livermore National Laboratory (LLNL) Senior Staff Scientist Jennifer Pett-Ridge, an accomplished soil expert, provided the overall technical context for the event by identifying local and national opportunities for sustainable and productive farming.
"Soils are at the nexus of carbon and energy, water and food security," said Pett-Ridge. "We're focusing on sustainable production systems, incentives, just outcomes and the scientific rigor to ensure climate benefits are measurable. Lawrence Livermore National Lab wants to provide the tools and data to shape state and national climate action plans."
Throughout the day, specific panel discussions were led by each of the four universities. UC Merced's panel on the university's smart farm was preceded by:
The California Water Institute and a discussion of the Sustainable Groundwater Management Act and how a water trading market might be developed in California, sponsored by Fresno State.
Revenue growth opportunities for landowners facing fallowing land, including what land repurposing looks like in the Central Valley and how it can be done equitably, sponsored by Stanislaus State.
The business and economics of agriculture, and how climate is impacting agriculture supply chains and business strategies, sponsored by CSU Bakersfield.
Steve Blumenshine, CSU's interim executive director of Water Advocacy Toward Education and Research, appreciated the event.
"There are so many water interests and stakeholders in California, there wouldn't be any point in convening just CSU, UC or within a specific government agency. Everyone brings a different set of perspectives, values and currencies and deserves to be heard and represented in these conversations."